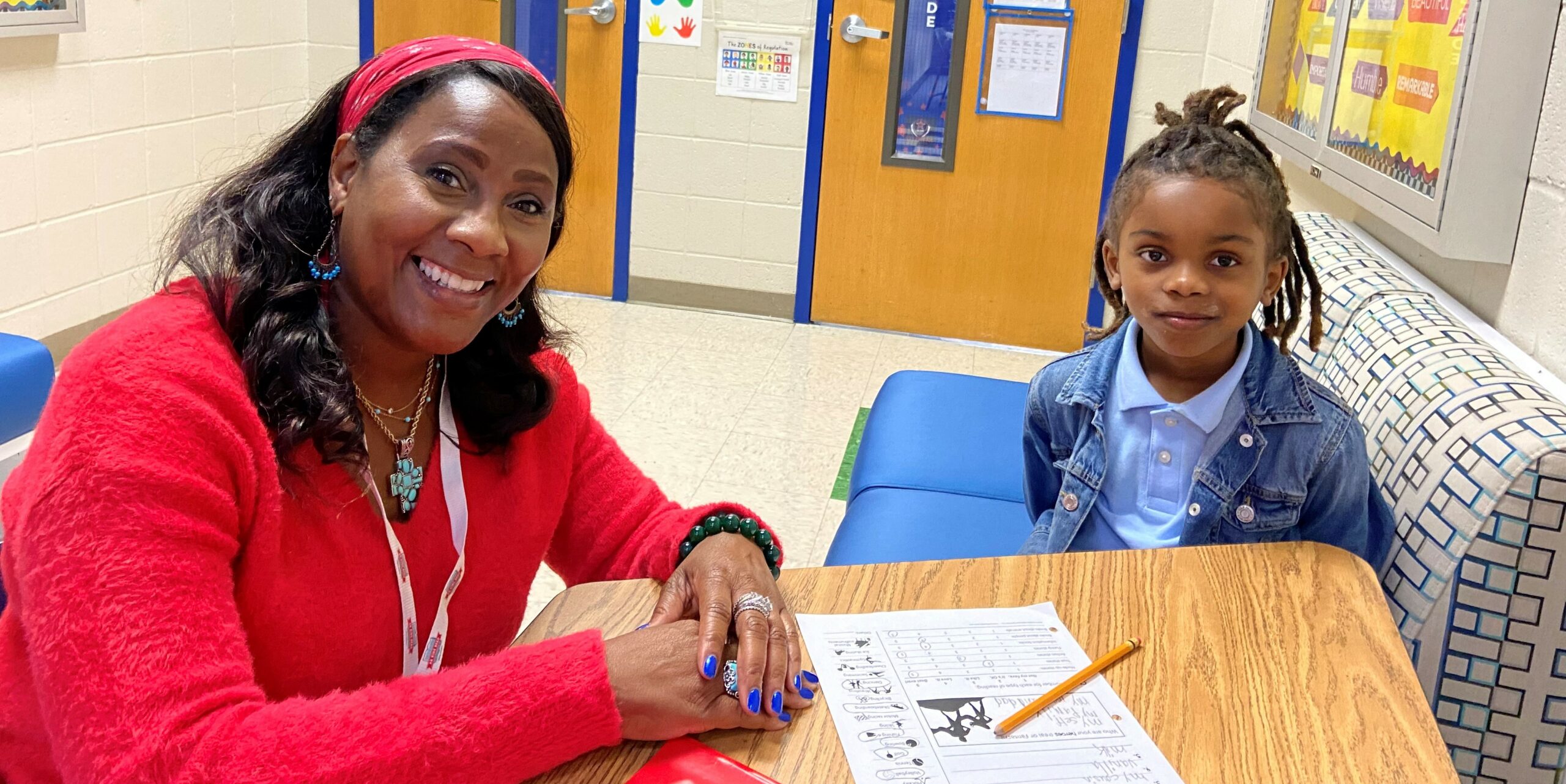 Become a Volunteer
Tutor
Make a Difference
in Arkansas
Thank you for your interest in becoming an AR Kids Read tutor. As an AKR tutor, you will encourage children to reach their full potential by helping them to build valuable literacy skills and gain academic confidence. Reading is a basic building block that students often need help to master. AKR tutors support teachers and parents by serving as compassionate mentors and friends to children in our communities.
We provide the training and materials for tutors to be successful, and do not require our volunteers to have a background in education. Tutors use a school-aligned, evidence-based curriculum and provide consistent reading time for students to help them catch up to their peers. AKR Tutors commit to serving for one school year (October through March) and meet once per week with the same two students in a one-on-one setting.
This is a great opportunity for professionals and individuals to invest in their local community, high school and college students to explore the possibility of becoming teachers, and retired educators to return to their love of working with children. Join us today by filling out an application. Need more information? Check out our FAQs below.
Interested in Becoming a Tutor?
Click the Volunteer Application link below to apply.
Frequently Asked Questions
Have questions about our tutoring program? See below for common inquiries, or email info@arkidsread.org.
What are the application requirements?
Interested volunteers who are at least 16 years old fill out an application, attend a 1.5 hour training (August, September, November), and complete the background check process. Volunteers between the ages of 16 and 18 do not need to submit a background check application.  These candidates must submit a recommendation form to complete the vetting process. 
What is the time commitment?
You will commit to tutoring at least one hour per week for 20 weeks (October-March).  Each tutor is assigned to 2 students and the tutor works with the same two students for the tutoring term.  This time commitment allows ample opportunity for you and your students to build a relationship which is the foundation of the AKR model. 
What does a typical tutoring session look like?
You will meet with students in a one-on-one setting for 30 minutes each week.  A typical tutoring session consists of opportunities for skill-building activities, reading practice for the student, and interactive games to reinforce foundational reading skills. Additionally, there's always time for conversation, time to read aloud to your student, and many shared laughs and stickers!
Do I need to have an education background?
No, it is not a requirement to have an education background.  You provide the time and the relationship. We provide the training, the materials, and ongoing coaching and support.
When does tutoring take place?
Tutoring takes place at designated school sites during the morning and early afternoon as well as at after school sites in the late afternoon between 3:30 pm and 5:30 pm.
What's the process for selecting a tutoring site and time?
You will fill out an application and "save your spot" to tutor May through July. In August and September, once the schools have finalized their schedules, you will select your exact tutoring day and time.
What happens if I can't make a tutoring session?
Consistent attendance is very important, but it is understood that there will be times when you will need to reschedule a session.  You will communicate directly with the site contact or teacher to cancel or reschedule a session.
What happens if the student isn't consistently showing up or if the match is not working out?
Student attendance is tracked on a regular basis and if the student misses sessions consistently, the AKR Program Coordinator will reassign you to a new student.  Similarly, if the match is not working out, the school staff and the AKR team will work together to support you and determine if it's necessary to find a new student match.
What are the benefits of becoming a volunteer reading tutor?
As an AKR tutor, you are helping students to become confident, fluent readers which will in turn help create a stronger community.  Volunteers have reported that it is often the best part of their week, and they get as much out of it as the student does.  It is gratifying to watch a student make progress which will help them to catch up to their peers and excel in school.  Reading is a foundational skill that is necessary for each student to master. AKR reading tutors are building relationships as well as building stronger readers.
If I am unable to tutor at this time, how else can I participate with your organization?
There are many ways to get involved with AR Kids Read- become a donor, start a book drive, volunteer during our fundraising events, or help with small program projects. Email info@arkidsread.org to find out exactly how you can get involved!
What does AKR do in the summer?
AKR hosts the Literacy Playground at our after-school program sites. Volunteer opportunities are available during the summer program as well.
How do I get started?
Complete the volunteer application here, or if you have any additional questions or would like more information, please email info@arkidsread.org or call our office at 501-244-2661.
Little Rock School District
Bale Elementary School
Baseline Academy
Carver Magnet Elementary School
Chicot Elementary School
J.A Fair Elementary School
Mabelvale Elementary School
McDermott Elementary School
Stephens Elementary School
Terry Elementary School
Washington Elementary School
Watson Elementary School
Western Hills Elementary School
Jacksonville North Pulaski School District
Bobby G. Lester Elementary School
Jacksonville Elementary School
North Little Rock School District
Amboy Elementary School
Boone Park Elementary School
Meadow Park Elementary School
Seventh Street Elementary School
Pulaski County Special School District
Crystal Hill Elementary School
Joe T. Robinson Elementary School
Oakbrooke Elementary School
Pine Bluff School District
Broadmoor Elementary School
James Matthews Elementary School
Southwood Elementary School
34th Avenue Elementary School
After School Programs
Brandon House
Jacksonville Boys and Girls Club
Jefferson County Boys and Girls Club
Life Skills for Youth
Our House
Subscribe to OUr Newsletter
Support us with a
Donation
© 2023 | All Rights Reserved