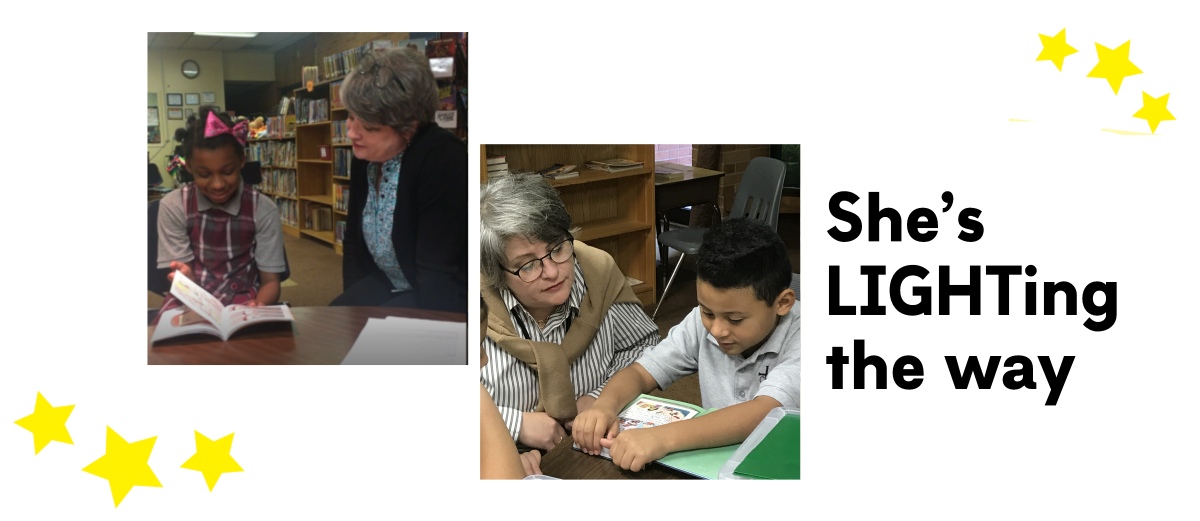 Tales from the Tutors: She's LIGHT-ing the way
As the student reads the words from "Somewhere Over the Rainbow," AR Kids Read Tutor Stacy Light follows along and points out how the words are all squiggly lines.
"What do you think that means?" Light asks. "Do you think that means her voice is good?"
The students shakes her head and says, "They're like, 'Boo!'"
As they continue reading, Light continues asking questions, like "How do you think she is feeling right there?" and "Have you ever felt like that before?"
This scene probably seems familiar to anyone who went through AR Kids Read new tutor orientation this year, or anyone who watched the online training video, since the video of Light interacting with her student is included in both. She was featured because of her exceptional ability to engage with her students while reading.
"Stacy is just really good with her students," said Rebekah Wills, AR Kids Read program coordinator. "She just naturally knows how to follow their needs. She clearly takes the time to get to know them, and she knows how to work on reading but keep it relationship based and conversational. She is really good at doing that."
For anyone who struggles with how to get that balance, Light will soon be able to help, since she will be a tutor coach this year. Tutor coaches are a new feature at AR Kids Read, where tutors who feel like they need a little bit of feedback or support can request to have a tutor coach work with them. Tutor coaches can shadow a reading session to share observations and collaborate on how best to help the student. (More information on how to request a tutor coach will be coming out soon in the Tutor Tips e-mails.)
Light started tutoring last year after she started working at Electrical Cooperatives of Arkansas, which is a partner with AR Kids Read. She remembers feeling a little confused about how it works and not knowing where to go for help. She signed up to be a tutor coach this year so that she could be there as a resource for new tutors that may be feeling the same way.
She is looking forward to sharing tips and ideas and helping tutors get comfortable with their roles so that they want to return as tutors year after year.
"We are all here with a common purpose," she said. "If we work together, we can do it much better."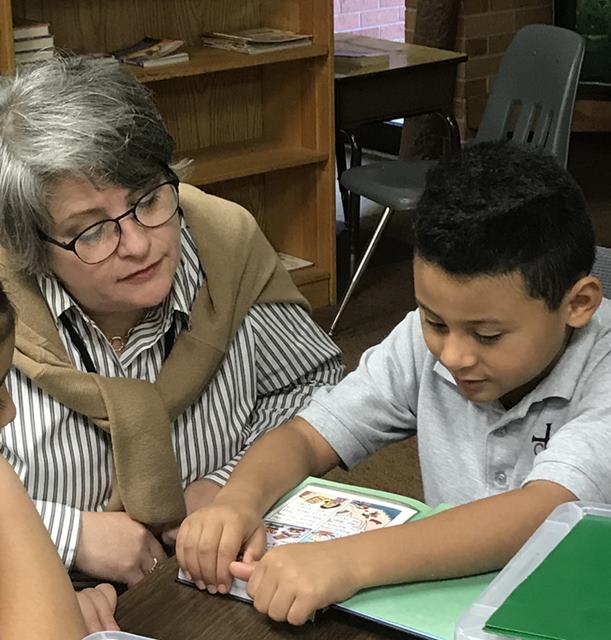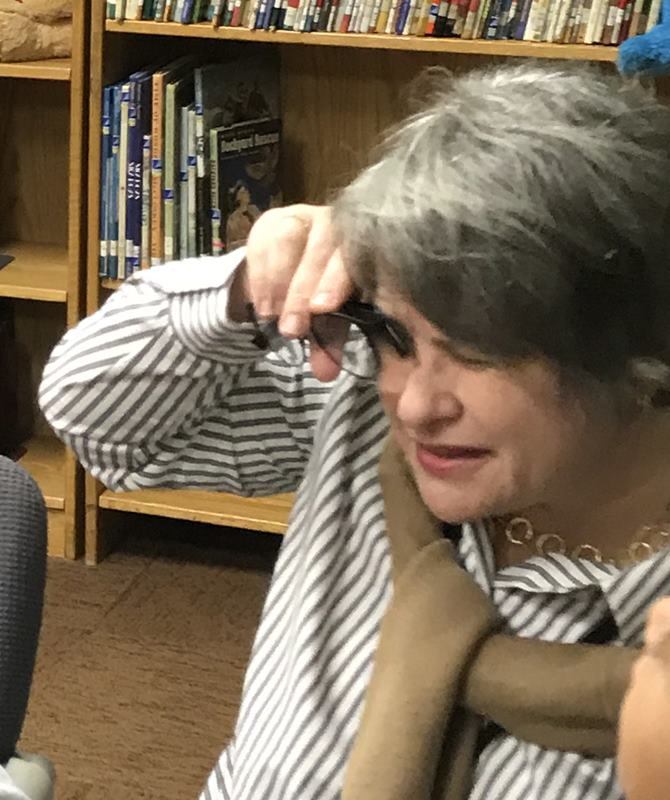 For Light, that purpose is clear: making the difference in the lives of students. She remembers the impact that her fourth-grade teacher made on her. The teacher cut out a cartoon out of a newspaper every day for specifically and encouraged her to find the hidden word in the cartoon to get her thinking creatively. Through tutoring, Light hopes to be able to have that kind of impact on her students.
"I'm humbled every time I go in there because I think, 'wow, I have an opportunity to do something that will hopefully make some difference in this child's life,'" she said. "When their faces light up when they see me through the door, it is clear that I am making a positive difference. I truly think that we are all put on this earth to do something good, and maybe this is one of those things that I am here to do."
Volunteering as a reading tutor has been a perfect fit for her, as she has always valued reading especially.
"I'm an avid reader," Light said. "Reading is close to my heart. Having the skills that reading brings is very important."
As a tutor at St. Theresa Catholic School, she has found lots of little ways to engage her students with reading. She learned that having her students pick out books for the next week's reading session in advance builds a sense of anticipation leading into the next week. She took the items from her tutor packet (crayons, whiteboard, etc.) and added magic markers, notepads, etc., to create reading boxes. Last year, she got permission from the school to work with her students after spring break.
"Stacy goes the extra mile," said Kristy Dunn, principal at St. Theresa Catholic School. "She has taken a vested interest in our school and students."
Dunn said that Light's efforts have helped her students tremendously. Teachers have said that the students grew a lot more comfortable and excited about reading and that they raised their hands in class more.
During their sessions, Light also saw this progress as she noticed them trying to read harder books and staying more focused. She was proud of how they started sounding out harder words rather than trying to gloss over them like they had in the beginning.
Tutoring is not only about the reading skills, though; it's also about the students building a healthy relationship with an adult. Light said she has noticed how much her students need a consistent support system from adults.
"Sometimes kids just need attention, and that will get them focused and interested in doing something," Light said. "Even in that short amount of time we spend with them gives them undivided attention from an adult who is encouraging helps build their self confidence and create better habits for them that will help them long term."
Dunn agreed that the students benefit from having another positive adult role model in their lives.
"She's another grown-up that they can trust and count on," she said. "It's huge for our teachers. They are already working so hard, and some students just need a little extra support, so it is invaluable to them. It's like having another partner, and we need as many partners as we can get."
© 2022 | All Rights Reserved