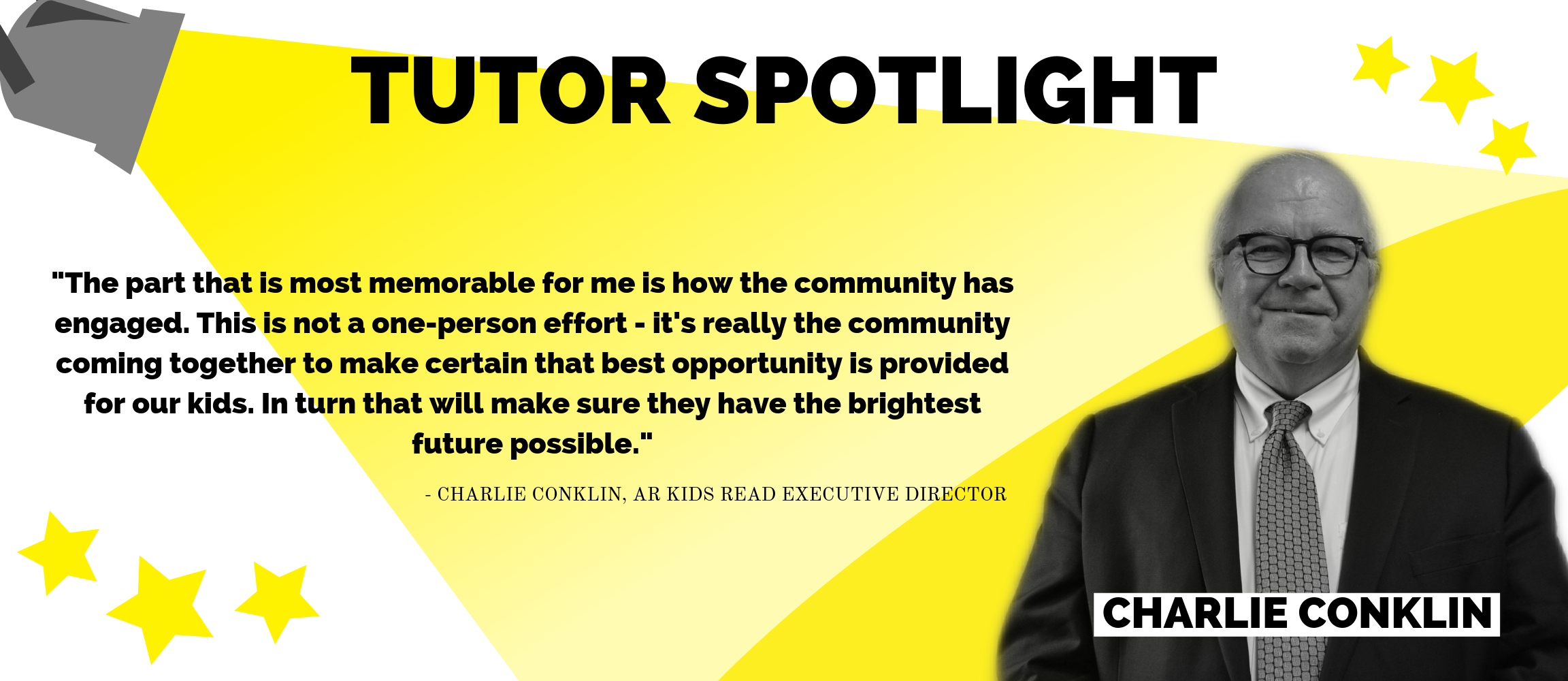 Tales from the Tutors: Charlie Mobilizes the Community to Help Struggling Readers
As a tutor, Charlie Conklin has enjoyed watching his students share their newly found love of reading with classmates, parents and other family members. He has also enjoyed getting to know his students – one student dreamed of being an astronaut, and others have chatted about their trips to the lake or big cities. One student (an English Language Learner) even taught Charlie that the Spanish word for meteorite is meteorito.
As a member of the AR Kids Read staff, Charlie has enjoyed interacting with students, schools and supporters, like touring the USS Razorback with the summer program students and THV11 personality Craig O'Neill.
As executive director, Charlie has enjoyed seeing the community unite to support the reading initiative to help more students read proficiently by the end of third grade.
"My biggest accomplishment has been to help mobilize the community," he said. "Through the tutors and the board, we have helped the community understand the need to help kids learn how to read. Individuals and organizations have come alongside and recognized the importance of doing that."
Charlie grew up in an education-centric family. His dad was a college professor, and his mom taught high school.
"We were always reading and learning, usually hands on," he said. "This helped me understand that education opens the door to so many opportunities."
After earning his bachelor's degree from Davidson College and his master's degree from Wake Forest University, Charlie started a career in banking, but he still supported education by teaching and serving as a board member for the Stonier Graduate School for Banking. His career in banking spanned 37 years, but when he retired as president and CEO of AgHeritage Farm Credit Service in 2008, his focus returned to supporting education through his work with the Nehemiah Network.
The Nehemiah Network is a group of church pastors and business leaders who want to invest time and effort into the community. One of the network's service projects centered on Christian literacy, and through that, they recognized how important it was for students to learn to read by the end of third grade. The network learned that studies have shown that children learn to read until they get to third grade, but that after third grade, they have to use their reading skills to be able to learn in all subjects.
As the Nehemiah Network launched the reading initiative that would become AR Kids Read into schools in 2011, community leaders Jay Chesshir and French Hill endorsed the initiative and supported transitioning it from the Nehemiah Network into a community-based nonprofit that could potentially serve students throughout the state of Arkansas. As a result, AR Kids Read was born in 2012, and Charlie left his role as executive director of the Nehemiah Network to lead AR Kids Read.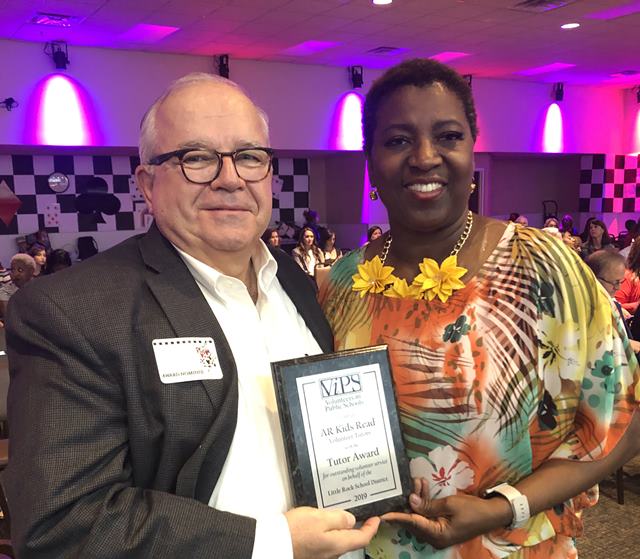 Charlie and Barbara Lunon (an AKR tutor) showcase the Tutor Award at the ViPS recognition ceremony.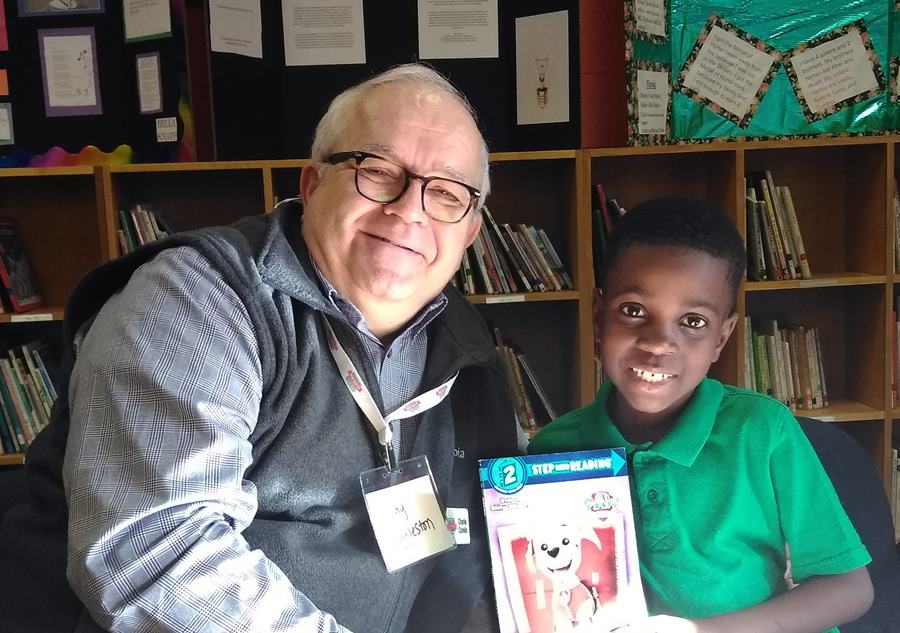 Charlie is currently tutoring two students at Sherwood Elementary.
"Reading and this initiative was really such a personal passion of mine," Charlie said. "It was a natural transition."
AR Kids Read started with 65 tutors helping just more than 100 students in four schools in Little Rock School District and four schools in North Little Rock School District. Charlie remembers some of their adventures from those early days, like when they had to contact tutors to cancel tutoring one day because there were bats in a school.
He also remembers how enthusiastically the students welcomed tutors. The tutors would sit in hallways to read with their students, and the tutors and their students would wave to other students and entire classes that walked through the hallway. He said it was apparent that the kids really enjoyed the special attention.
Over the past seven years, AR Kids Read has grown to coordinate more than 420 tutors working with more than 800 students in 49 schools, including charter, parochial and public schools in four school districts.
"It has been sweet," Charlie said. "The part that is most memorable for me is how the community has engaged. This is not a one-person effort – it's really the community coming together to make certain that that the best opportunity is provided for our kids. In turn, that will make sure they have the brightest future possible."
As Charlie moves forward with his retirement from being executive director of AR Kids Read, Charlie said he and his wife, Jackie, plan to take some time to travel and to focus on their health so they can continue to enjoy their family for a long time to come.
"AR Kids Read was Charlie's 'baby,' and as such letting go will be a challenge," Jackie said. "But God has provided much more than we could ask or imagine."
Charlie has plans to travel to Oregon, which is the only state he has not yet visited, and to stay active with the church, reading and literacy, including continuing to tutor through AR Kids Read.
"Charlie's greatest joy is when the kids he's tutoring call him grandpa," Jackie said. "Charlie may be stepping aside from administrative requirements, but tutoring will always be in his schedule."
Charlie's last day as executive director of AR Kids Read will be May 15, 2019, and he is looking forward to a bright future for the organization as Dionne Jackson, the new executive director, leads the staff and volunteers to carry on his vision.
"I feel great that I helped start the fire, but it is going to continue with the wonderful staff and tutors that we have," Charlie said. "I'm excited about the future of AR Kids Read in not only Central Arkansas, but possibly beyond."
© 2022 | All Rights Reserved