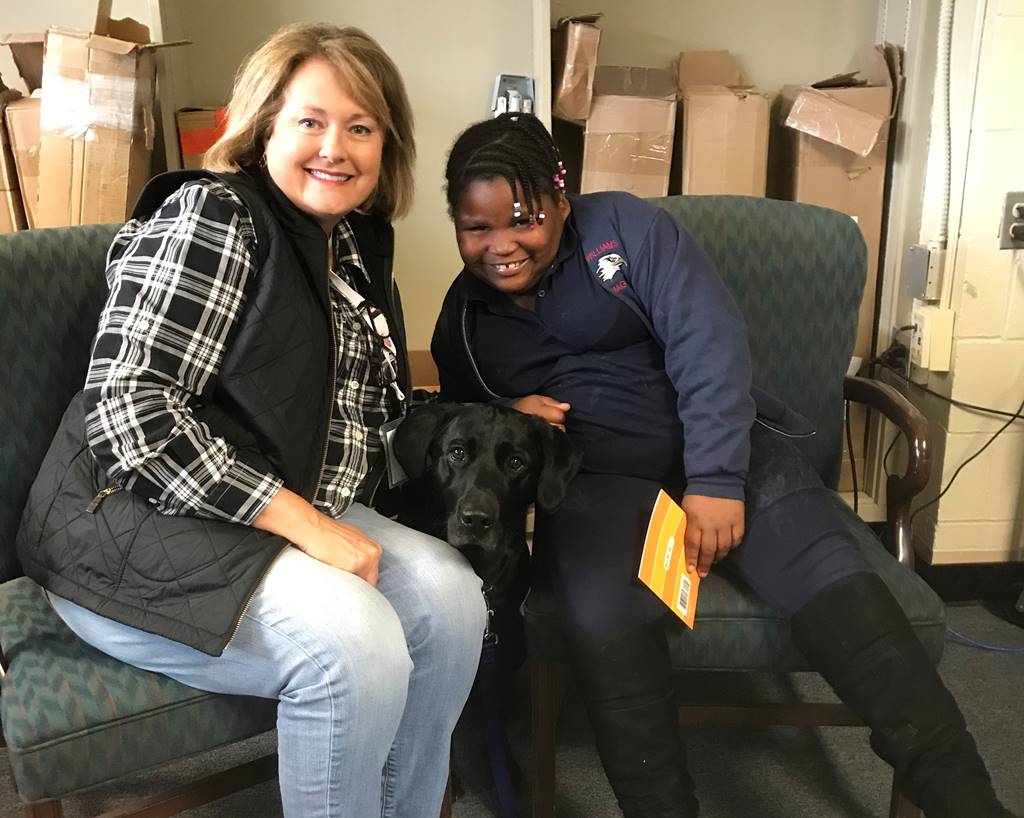 Tales from the Tutors: Reading with Dr. Duke
When you begin to build a relationship with a student, there are often barriers that you have to break through. That takes time, consistency, and compassion. As time goes on, and as trust is established, those walls start coming down and they open up more and more naturally. This creates room for more growth and a deeper relationship. 
But, there's something about a furry four-legged friend that seems to break down barriers so much more quickly than what humans are capable of, and that's exactly why Marcia Watkins decided to introduce her Labrador, Dr. Duke, to the students at Williams Traditional Magnet Elementary.
Marcia and her husband have always been dog lovers and have owned quite a few Labradors. After her husband retired, Marcia decided to seek out ways that she and Dr. Duke could get involved in the community. She was reading the newspaper one day and came across an opportunity to work with children once a week with reading and decided to get involved. Her mom had been a public school teacher for 40 years, and she had been brought up in Little Rock Schools, so it seemed like the perfect fit for her and Dr. Duke.
"I thought this was would be something great that we could do together," she said. "It was so easy. I just went online and filled out a form, went in for training and got the dog checked off."
Dr. Duke is registered as a therapy dog, which included making sure he met the qualifications for temperament and physical health. He also had to demonstrate his obedience and focus while walking on a leash.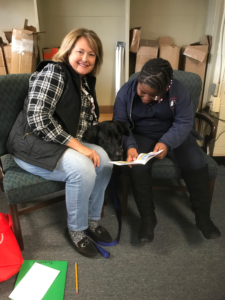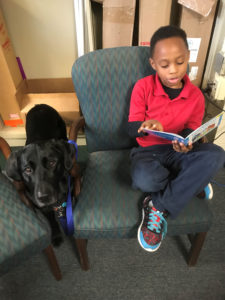 Dr. Vivian Evans, the site contact at Williams, welcomed Dr. Duke and did all the background work for him for him to be allowed to join her tutoring, like getting permission from parents. Once everything was squared away, Dr. Duke and Marcia were ready to meet their two students. Both students were a little shy at first, but they and their classmates soon warmed up to their new four-legged friend.
"Dr. Duke really enjoyed his time at Williams," Marcia said. "He was even invited to a birthday party. He was loved very much at the school. We were often walking down the hall as classes let out, and that would mean 20 or so little hands would want to pet Dr. Duke."
Marcia also enjoyed interacting with the students at Williams.
"The best part was getting to the know the children one on one," she said. "We spent as much time chatting about their week as we did tutoring."
After taking some time to catch up and connect, Marcia and the students practiced reading and worked on reading skills, like blending letters together to sound out words, while Dr. Duke provided some non-judgmental support. As sessions passed, Marcia noticed that the students' reading comprehension was improving and that they were moving up to more challenging books.
"Even in a short amount of time, I'm seen improvement in their reading," Marcia said. "They enjoy being with Dr. Duke. They enjoy reading."
© 2022 | All Rights Reserved